Early Childhood Rooms
Each Early Childhood room has their own outdoor yard which is stimulating, clean, inviting and age appropriate.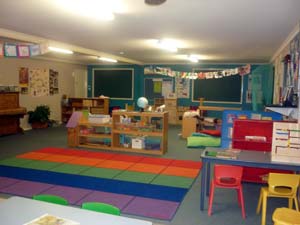 4 year old Preschool\Long day care
For ages between 4 and 6.  
Licensed for 33 children.
In 2016 we offer two funded Preschool programs. One group operates on a Monday and Wednesday (green group) and the other opeartes on Tuesday and Thursday(yellow group). Both groups operate from between from 8:30am to 4:00pm.  We also offer  a 4 year old long day care program, where there are vacancies. More information on our Preschool and Long day care program is available at TCC. Please email tcc if you would like a copy emailed to you.
Qualified Early Childhood educators
All educators employed with TCC either have a Bachelor,  Advanced  Diploma, Diploma or Certificate 3 in Early Childhood.
All Educators also maintain a current:
Level 2 First Aid Certificate
Food Handlers Certificate
Epi Pen Anaphalaxysis Certificate
Asthma Certificate
Working with children's and Police check
and engages in a DEECD approved online Child protection training session
Nutrition and Active Play
TCC works alongside the State Victoria Government and implements the 'Healthy Together Victoria Achievement Program'. We work alongside this organisation and implement all of their recommendations to ensure we are meeting national benchmarks and to ensure our menus are always Nutritionally sound for children between the ages of 0-6 years.
National Quality Standards
In November 2018, TCC was involved in the Early Childhood assessment and rating cycle process with DEECD. The purpose of this process was to determine our services rating against National Quality standards and Regulations set by the Victorian Government. We were very much looking forward to being apart of this process to ultimately achieve best outcomes for young children. In conclusion, we received a rating of 'Exceeding the National standard' which is a result we are very much proud of as a non for profit Community operated organisation.
Early Years Learning Frameworks
At TCC we have embraced the Early Years Learning Frameworks for Australia and Victoria and have incorporated the Learning outcomes into our daily programming and curriculums. We have also used the Belonging, Being and Becoming document as a guide to extend and enrich children's learning from birth to five years. These government publications forms the foundation for ensuring that children in all Early Childhood education and care settings experience quality teaching and learning.
Belonging – knowing where and with whom you belong-is integral to human existence. Children belong first to a family, a cultural group, a neighbourhood and a wider community. Belonging acknowledges children's interdependence with others and the basis of relationships in defining identities. In early childhood and throughout life, relationships are crucial to a sense of belonging. Belonging is central to being and becoming, in that it shapes who children are and who they can become.
Being – childhood is a time to be, to seek and make meaning of the world. Being recognises the significance of the here and now in children's lives. It is about the present and them knowing themselves, building and maintaining relationships with others, engaging with life's joys and complexities, and meeting challenges in everyday life. The early childhood years are not solely preparation for the future but also about the present.
Becoming – children's identities, knowledge, understandings, capacities, skills and relationships change during childhood. They are shaped by many different events and circumstances. Becoming reflects this process of rapid and significant change that occurs in the early years as young children learn and grow. It emphasises learning to participate fully and actively in society.
The Victorian Early Years Learning and Development Framework is designed to assist families and early childhood professionals to guide children's learning and development in the first eight years of life. It is based on the understanding that children's first and most enduring educators are their families. Families provide the caring relationships, the models, the opportunities and the experiences shaping children's learning and development.
The five learning outcomes are designed to capture the integrated and complex learning and development of all children across the birth to five age range. The outcomes for both frameworks outcomes are:
Children have a strong sense of identity
Children are connected with and contribute to their world
Children have a strong sense of wellbeing
Children are confident and involved learners
Children are effective communicators