Early Childhood Rooms: Environments for Learning 
TCC's philosophy guides the TCC Educators with their strategies in setting up environments which foster the development of outcomes for children across all age groups. Our environments encourage exploration, inquiry and give all children a sense of belonging, being and becoming during their early years. Here at TCC we endeavor to provide your child with dedicated educators that will nurture and facilitate growth and development. We strive to provide a supportive, safe, and stimulating learning environment that will foster solid foundations for every child's life long success.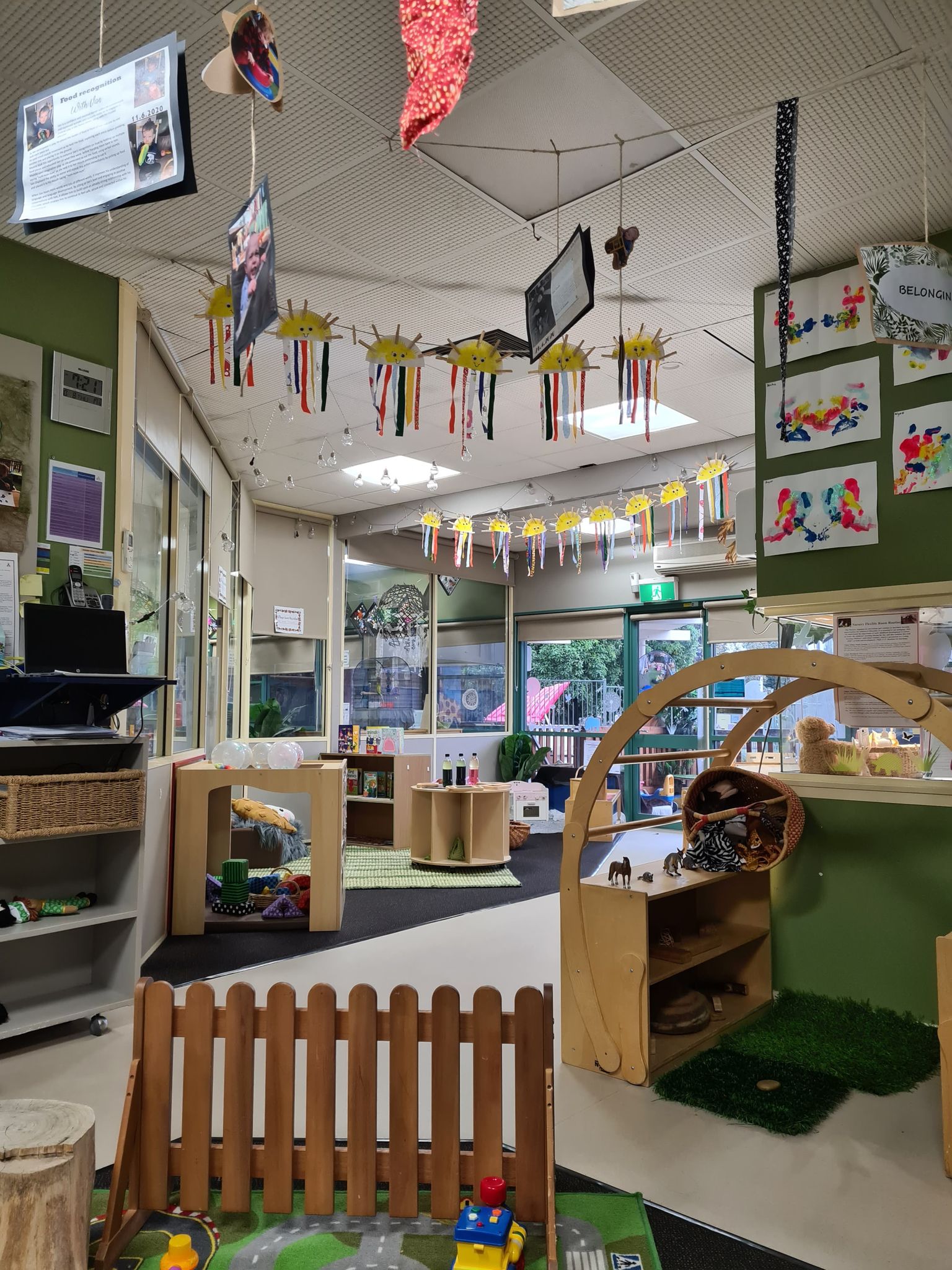 Nursery: For ages between 8 weeks and around 18 months. Licensed for 8 children per day.
Full of changes and growth, the first two years of a child's life should be supported with constant nurturing, comfort and security. Our nursery environments are made up of sensory rich resources with dedicated cot\bed areas to engage senses, nurture autonomy and replicate at home rest routines.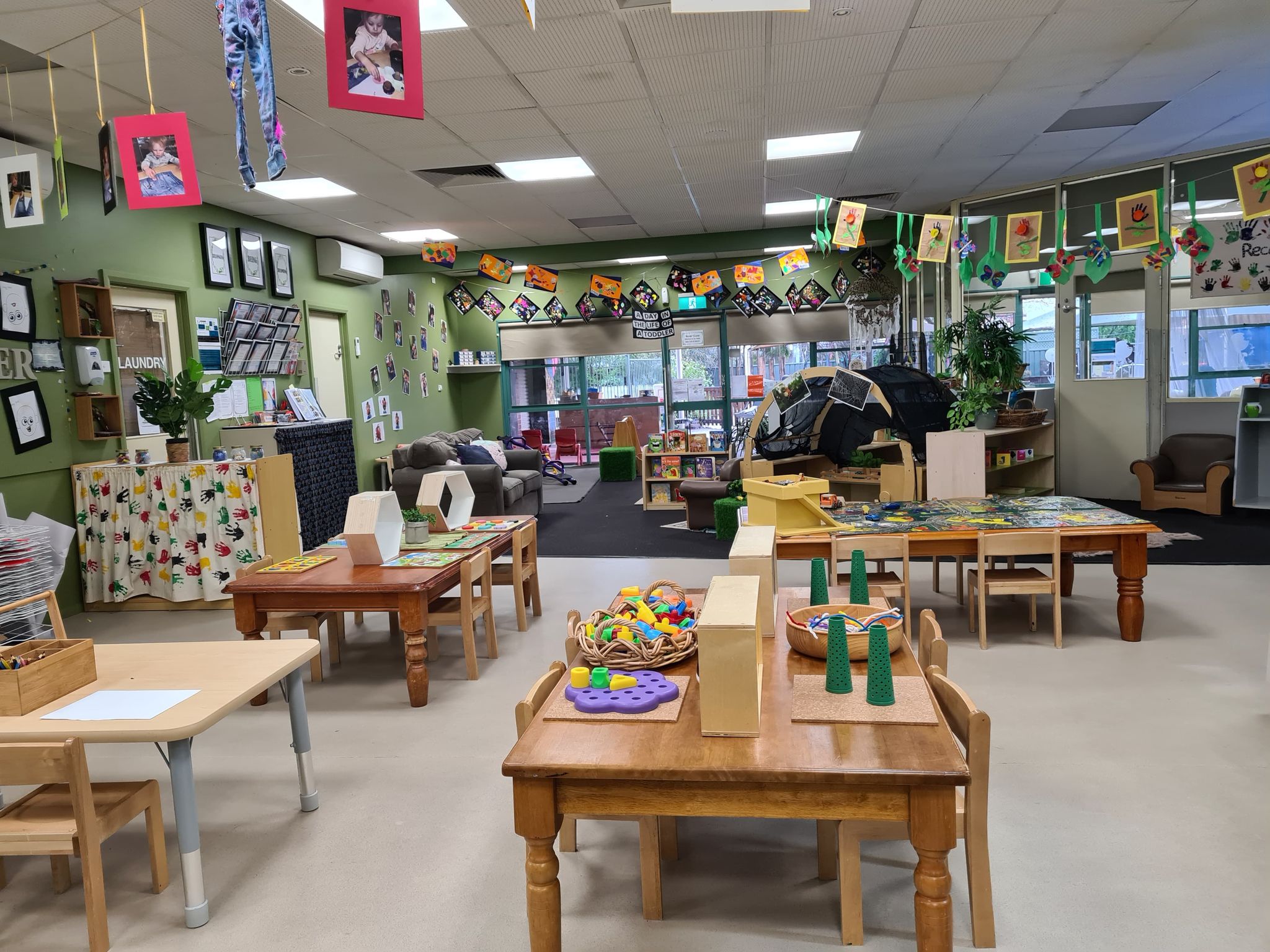 Toddler: For ages approx  between 15 months and 3 years. Licensed for 24 children
New discoveries and curiosity stamp the way for toddlers who are eagerly learning about their sense of self and their surroundings. We provide your child with the platform to investigate their own learning and branch into topics that interest them and their development. Provocations are regularly changing and expanded upon to keep every child engaged and to guide their own direction of learning.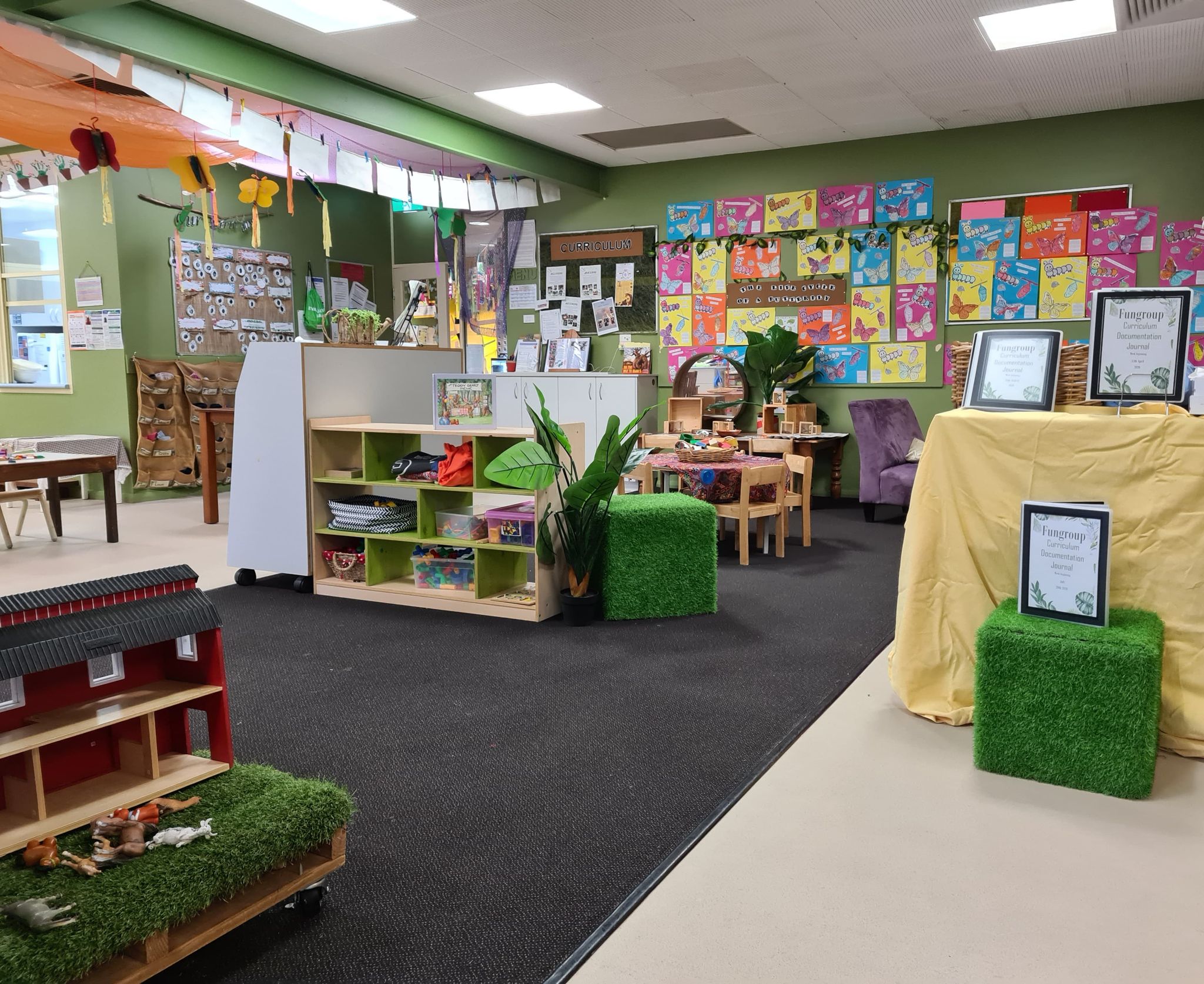 3 year old fun group: For ages between 3 and 4 years.  Licensed for 33 children.
We focus on small group collaboration work, and foster the children's interests as they are starting to grow into confident young children eager to explore their inquiry's and investigations. Play and intentionally teaching strategies are used to develop and extend on the children's developmental skills and interests.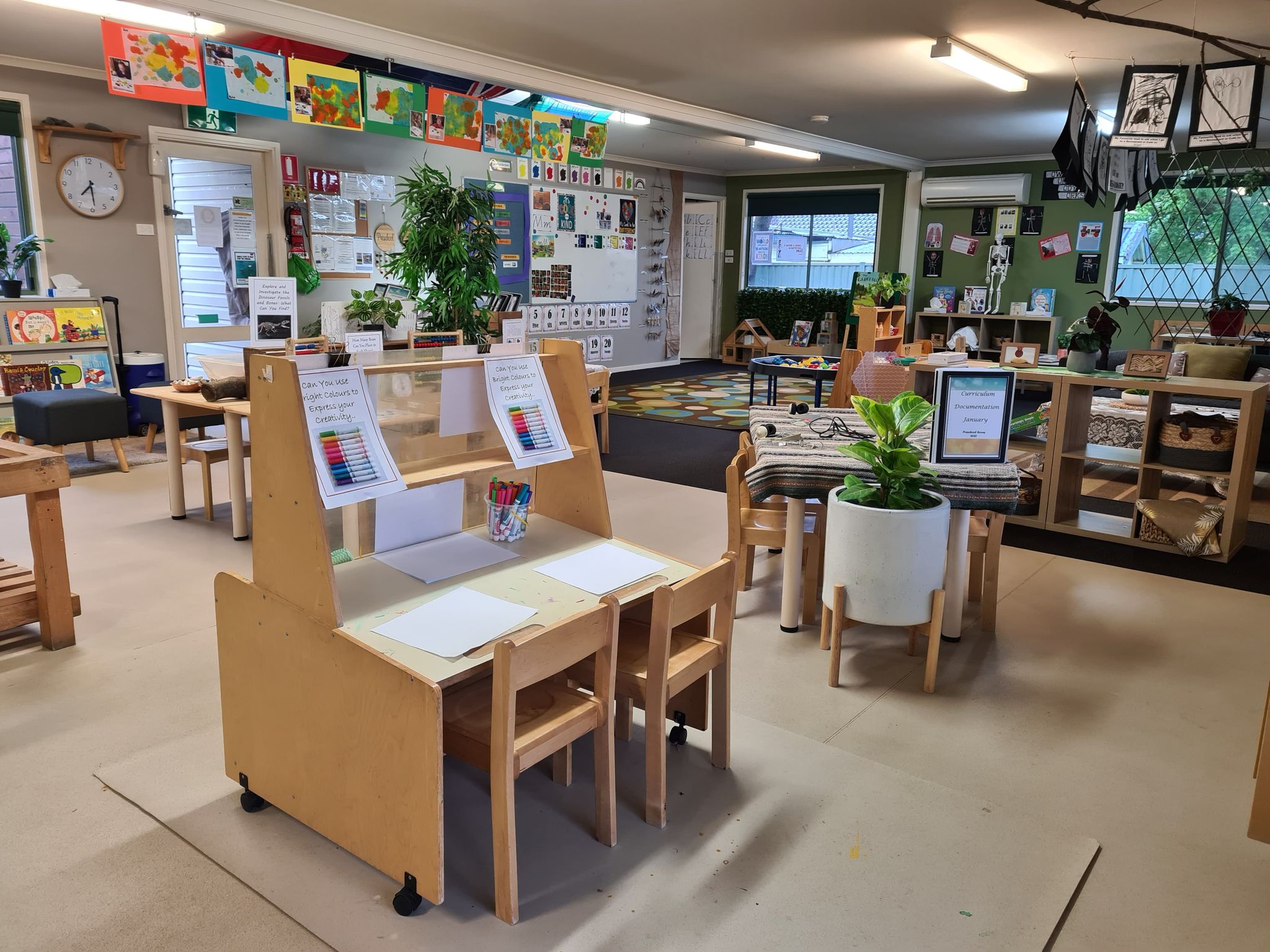 4 year old Preschool\Long day care: For ages between 4 and 6.  Licensed for 33 children.
Our Bachelor and Qualified  Kindergarten Teachers and Educators deliver a TCC approved Curriculum that your child needs to get them ready for their next big step in life. We endeavor to fill each child with the confidence they need to face the next challenge in their learning pathway, both socially and emotionally with our exceeding programs. We work hard to create variation in our learning programs that integrate elements of art, literacy, numeracy, science, music, social awareness, emotional intelligence and language development at all ages to support their entire wellbeing and path to their own successes.
Qualified Early Childhood Educators: Quality Area 4
All educators employed with TCC either have a Bachelor,  Advanced  Diploma, Diploma or Certificate 3 in Early Childhood. Our dedicated team of 30 Educators strives for continuous improvement on a daily basis and ensures your childs wellbeing and learning is promoted and explored.
All Educators also maintain a current:
Level 2 First Aid Certificate
Food Handlers Certificate
Epi Pen Anaphalaxysis Certificate
Asthma Certificate
Working with children's and Police check
Engages in a DEECD approved online Child protection training session
Covid Immunisations
National Quality Framework: Exceeding Service
In November 2018, TCC was involved in the Early Childhood Assessment and Rating process with DET. The purpose of this process was to determine our services rating against National Quality standards and Regulations set by the Victorian Government. We are very much looking forward to being apart of this process again  in 2021 to ultimately achieve best outcomes for young children. In conclusion, we received a rating of 'Exceeding the National standard' which is a result we are very much proud of as a non for profit Community operated organisation.
Early Years Learning Frameworks: Our Curriculums support Outcomes for Learning: Our Programming in Action
At TCC we have embraced the Early Years Learning Frameworks for Australia and Victoria and have incorporated the Learning outcomes into our daily programming and curriculums. We have also used the Belonging, Being and Becoming document as a guide to extend and enrich children's learning from birth to five years. These government publications forms the foundation for ensuring that children in all Early Childhood education and care settings experience quality teaching and learning. 
In each Early Childhood room you will see our planning in action through our Room Planning and Reflection folders, Room Curriculum diaries and also within your Child's learning Portfolio. These resources are readily available and assessible at any time. We encourage you to have a look at our programming and to give feedback so we can work with you to help your child reach milestones and either work towards or achieve the EYF Outcomes of learning. 
Belonging – knowing where and with whom you belong-is integral to human existence. Children belong first to a family, a cultural group, a neighbourhood and a wider community. Belonging acknowledges children's interdependence with others and the basis of relationships in defining identities. In early childhood and throughout life, relationships are crucial to a sense of belonging. Belonging is central to being and becoming, in that it shapes who children are and who they can become.
Being – childhood is a time to be, to seek and make meaning of the world. Being recognises the significance of the here and now in children's lives. It is about the present and them knowing themselves, building and maintaining relationships with others, engaging with life's joys and complexities, and meeting challenges in everyday life. The early childhood years are not solely preparation for the future but also about the present.
Becoming – children's identities, knowledge, understandings, capacities, skills and relationships change during childhood. They are shaped by many different events and circumstances. Becoming reflects this process of rapid and significant change that occurs in the early years as young children learn and grow. It emphasises learning to participate fully and actively in society.
The Victorian Early Years Learning and Development Framework is designed to assist families and early childhood professionals to guide children's learning and development in the first eight years of life. It is based on the understanding that children's first and most enduring educators are their families. Families provide the caring relationships, the models, the opportunities and the experiences shaping children's learning and development.
The five learning outcomes are designed to capture the integrated and complex learning and development of all children across the birth to five age range. The outcomes for both frameworks outcomes are:
Children have a strong sense of identity
Children are connected with and contribute to their world
Children have a strong sense of wellbeing
Children are confident and involved learners
Children are effective communicators
Source: Guide to the National Quality Framework\ACECQA